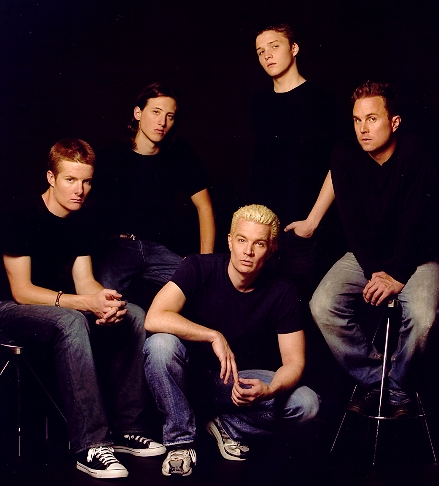 Ghost of the Robot est un groupe de rock, originaire du sud de la Californie, connu principalement grâce à son chanteur, l'acteur James Marsters.

Le groupe a été formé en avril 2002. Il se compose de :

* James Marsters
* Charlie DeMars
* Aaron Anderson
* Steve Sellers
* Kevin McPherson

Leurs influences vont des Weezer en passant par Jimmy Eat World ou encore Ben Folds ...
Wikipédia
Discographie:
Mad Brilliant
1. Liar
2. Vehicles Shock Me
3. Dangerous
4. David Letterman
5. Angel
6. Valerie
7. Mad Brilliant
8. Call 911
9. Blocking Brainwaves
10. German.Jewish.
11. Good Night Sweet Girl
Groupe récent , fondé et connu uniquement grace a James marsters , mais qui , je trouve à de réelle capacité .
<object width="480" height="385"><param name="movie" value="http://www.youtube.com/v/m7ZNacT_wdE?fs=1&amp;hl=fr_FR"></param><param name="allowFullScreen" value="true"></param><param name="allowscriptaccess" value="always"></param><embed src="http://www.youtube.com/v/m7ZNacT_wdE?fs=1&amp;hl=fr_FR" type="application/x-shockwave-flash" allowscriptaccess="always" allowfullscreen="true" width="480" height="385"></embed></object>
<object width="480" height="385"><param name="movie" value="http://www.youtube.com/v/Y78AJuy5_yY?fs=1&amp;hl=fr_FR"></param><param name="allowFullScreen" value="true"></param><param name="allowscriptaccess" value="always"></param><embed src="http://www.youtube.com/v/Y78AJuy5_yY?fs=1&amp;hl=fr_FR" type="application/x-shockwave-flash" allowscriptaccess="always" allowfullscreen="true" width="480" height="385"></embed></object>
site :
http://www.ghostoftherobot.com/home.html